Back from APA India 2020!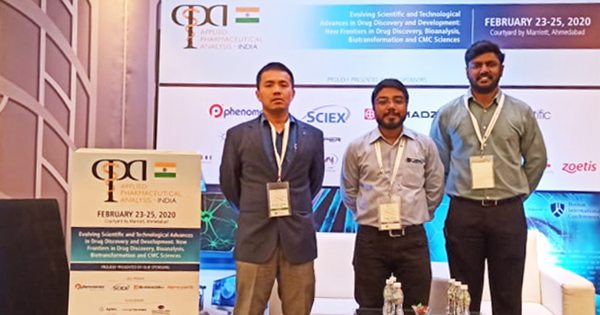 February 26, 2020
PREMIER Biosoft is back from Applied Pharmaceutical Analysis-India (APA) 2020 Conference organized by the Boston Society at Courtyard by Marriott, Ahmedabad, India from February 23-25, 2020. We showcased SimGlycan® software - A high throughput software solution for mass spectrometry based glycan and glycopeptide analyses.
Our CSO Dr. Sanjib N. Meitei delivered a talk titled, "Creating an Advanced High-Res Mass Spectral Database of Monoclonal Antibody N-Glycans labeled with 2-AA, 2-AB, and Procainamide Using UHPLC-Orbitrap-MS Methods". The talk featured the challenges in identifying probable glycan candidates using tandem mass spectra through in-silico fragment pattern matching and the importance of accurate mass spectra. The talk was well received by the biopharma research community.
We also presented two posters:
1. Creating LC-MS Template for Rapid and Accurate Identification of Cetuximab N-Glycans using UHPLC Coupled with Orbitrap-Based MS using SimGlycan Software
2. Identification of hIgG N-Glycans labeled with procainamide via reductive amination using UHPLC coupled with an Orbitrap-based Mass Spectrometer
To download your copy of the posters, please visit our Posters section.
We look forward to meeting you again!
| | | | |
| --- | --- | --- | --- |
| | Comment | Share | |