Thank You for Joining Us @ASMS 2018!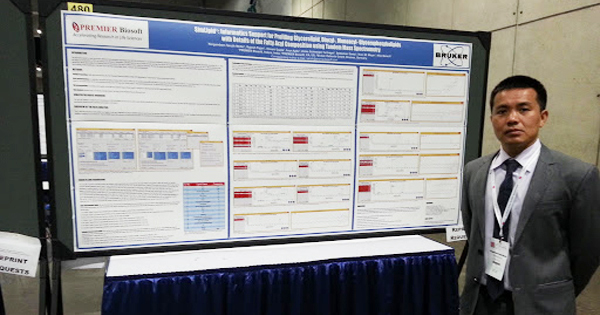 June 08, 2018
PREMIER Biosoft is back from 66th ASMS Conference on Mass Spectrometry and Allied Topics, San Diego CA, USA. It was wonderful seeing you all there! We showcased our software tools, namely, SimLipid® – a high throughput lipid characterization software, and SimGlycan® – a high throughput glycan & glycopeptide identification software. During the five-day event, we participated in multiple events organized in collaboration with our partner companies. Here are the highlights:
With Shimadzu Corporation, we announced the release of SimLipid® v. 6.04 and SimGlycan® v. 5.91 – the first ever software tools to support lipidomics and glycomics analysis for Shimadzu Corporation LCMS-9030 Quadrupole Time of Flight (QTOF) mass spectrometry (MS) system. Read more in the press note.
With Bruker Corporation, we conducted a VIP session on Advanced Data Processing Solution for Large-scale Metabolomics and Lipidomics Profiling. We discussed how MetaboScape generated *.mgf (mascot generic format) files can be directly imported to SimLipid®, enabling lipid profiling and identification using MS and MS/MS database search. On the other hand, results generated by SimLipid® can be directly imported to MetaboScape software for further statistical and pathway analysis.
With Agilent Technologies, we conducted a VIP session demonstrating new strategies for untargeted Lipidomics analysis. We discussed how SimLipid® v. 6.04 supports analysis of DIA data from Agilent's Q-TOF mass spectrometers for high confidence lipid species identification and relative quantitation.
On June 4th, we presented:
Structural Identification, and Quantitation of Glycans Labeled with Dual Modifications Strategies from Complex Mixtures Using LS-MS Workflows with SimGlycan Software
SimLipid: Informatics Support for Profiling Glycerolipid, Diacyl-, Monoacyl- Glycerophospholipids with Details of the Fatty Acyl Composition Using Tandem Mass Spectrometry
On June 5th, we presented:
Quantitative Glycolipid Tissue and Plasma Analysis by Broadband and Scanning Quadrupole Data Independent LC-MS Analysis
Applying Trapped Ion Mobility Separation (TIMS) in Combination with Parallel Accumulation Serial Fragmentation (PASEF) for Analysis of Lipidomics Samples

Comprehensive Lipidomics Workflow Using Automated Flow Injection Analysis for Data Independent Acquisition of Lipids Generated after Activation of Human Platelets

On June 6th, we presented:
Application of SimLipid Software in Lipid Profiling of Secreted Lung Lipids by MSMSALL Shotgun Lipidomics
Comparing Automatic Identifications in the MacroLipidomic Profiles of Human Whole Blood across UHPLC-MS/MS Platforms and Acquisition Modes
Lipid Profiling of Grape Samples Using Orbitrap Velos Pro Mass Spectrometer with SimLipid software
We look forward to seeing you at ASMS 2019 in Georgia!
| | | | |
| --- | --- | --- | --- |
| | Comment | Share | |