Meet Us @ ASMS 2018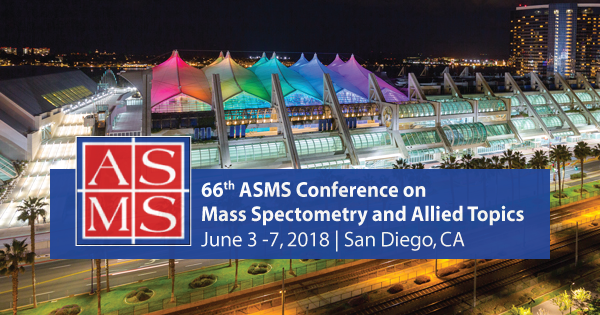 May 14, 2018
We are excited to announce that we are participating in the 66th ASMS Conference on Mass Spectrometry and Allied Topics at San Diego Convention Center from June 3 – 7, 2018, San Diego CA USA.
We are showcasing SimLipid® - Our high throughput lipid characterization software, and SimGlycan® - A high throughput glycan & glycopeptide identification software.
We are participating in multiple events organized by our partner companies. The events are as follows:
MetaboScape 4.0 and SimLipid 6.04: Advanced data processing Solution for large-scale metabolomics and lipidomics profiling – by: Dr. Ningombam Sanjib Meitei, PREMIER Biosoft CA USA
Visit us at Bruker's Hospitality suite - Indigo Ballroom, C & G, Hilton Bayfront on June 4, June 6, and June 7 at 3:00 PM, 11:00 AM and 11:00 AM respectively. Do not miss the opportunity to get a free trial!

New Strategies for Untargeted Lipidomics – by: Dr. Sheher Mohsin, Agilent Technologies IL USA; Dr. Ningombam Sanjib Meitei, PREMIER Biosoft CA USA
Visit us at Agilent's Hospitality Suite - Sapphire IJMN, Hilton Bayfront on June 5 at 3:00 PM. Meet us and get a free trial!
Poster Presentation:
Structural Identification, and Quantitation of Glycans Labeled with Dual Modifications Strategies from Complex Mixtures Using LS-MS Workflows with SimGlycan Software

SimLipid: Informatics Support for Profiling Glycerolipid, Diacyl-, Monoacyl- Glycerophospholipids with Details of the Fatty Acyl Composition Using Tandem Mass Spectrometry


Quantitative Glycolipid Tissue and Plasma Analysis by Broadband and Scanning Quadrupole Data Independent LC-MS Analysis


Applying Trapped Ion Mobility Separation (TIMS) in Combination with Parallel Accumulation Serial Fragmentation (PASEF) for Analysis of Lipidomics Samples


Comprehensive Lipidomics Workflow Using Automated Flow Injection Analysis for Data Independent Acquisition of Lipids Generated after Activation of Human Platelets


Application of SimLipid Software in Lipid Profiling of Secreted Lung Lipids by MSMSALL Shotgun Lipidomics


Comparing Automatic Identifications in the MacroLipidomic Profiles of Human Whole Blood across UHPLC-MS/MS Platforms and Acquisition Modes


Lipid Profiling of Grape Samples Using Orbitrap Velos Pro Mass Spectrometer with SimLipid software
For poster numbers and presentation timings, please visit our events section.
To schedule a meeting with us, please click here
We look forward to meeting you at ASMS 2018!
| | | | |
| --- | --- | --- | --- |
| | Comment | Share | |