Informatics Support For MS Based Lipidomics Methods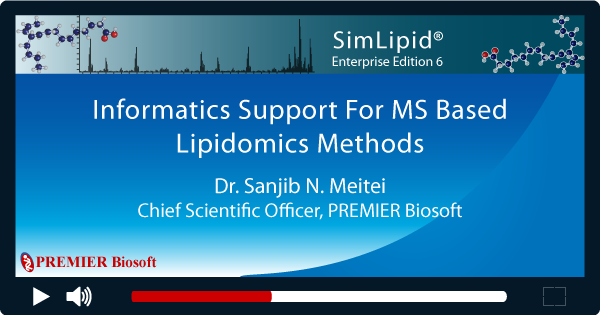 October 25, 2018
PREMIER Biosoft hosted a complimentary webinar on "Informatics Support for MS Based Lipidomics Methods" and received an overwhelming response. A large number of attendees attended the live webinar. The webinar was presented by Dr. Sanjib N. Meitei Chief Scientific Officer, PREMIER Biosoft. We received several interesting questions from the attendees and it was a great experience interacting with them.
Mass spectrometry is one of the most popular analytical platforms for structural elucidation and quantification of of biomolecules such as lipids. Due to the sheer volume of data generated by MS-based workflows, data processing and spectral interpretation for structural elucidation and quantification of biomolecules is tedious, resource intensive, and time-consuming. Besides, there are various MS-based lipidomics workflows using either low resolution or high resolution accurate mass (HRAM) MS instruments that require different data processing methods.
We have been working on providing a comprehensive informatics solution to overcome the challenges of MS lipidomic data analysis for typical low resolution MS instrument based methods to the state-of-the-art HRAM-based lipidomics methods. The webinar focused on addressing the key challenges using various MS lipidomics methods and data analysis. The webinar also highlighted the significance of a comprehensive informatics solution to help resolve the challenges of data analysis and it also emphasized downstream statistical analysis.
If you missed the chance to attend the webinar, you can watch the video. If you would like to further discuss your requirements, you can sign up to talk to our experts.
Please refer to our website for posters, application notes and tutorials on the method: http://www.premierbiosoft.com/citations/lipidomics-posters-technical-application-notes.html
| | | | |
| --- | --- | --- | --- |
| | Comment | Share | |