Meet us at SFG 2022 Annual Meeting in Florida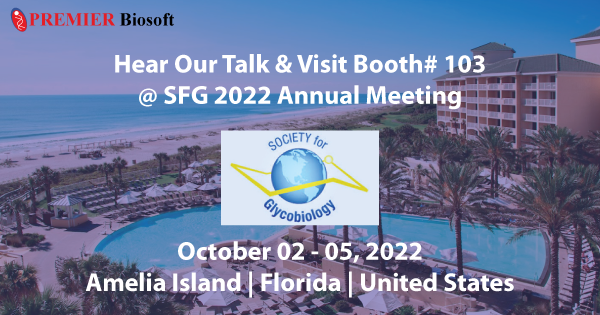 September 13, 2022
We are pleased to announce our participation at the SFG 2022 annual meeting at Amelia Island, Florida between October 02 - 05, 2022.
We are showcasing GlycanExplorer™ - An innovative glycan analysis software tool for high-throughput characterization of biotherapeutic releasead N-glycans with the help of robust HRAM glycan spectral databases. The software features - availability of both glycan structure-specificin-silico fragment and spectral databases, robust LC-MS peak picking algorithm, MS1 and MS/MS database search methods, single workbench view of the analysis result, and interactive charts and tables for efficient glycan mapping.
Our glycomics expert, Mr. Rupanjan Goswami, is delivering a talk titled, "Introducing a novel software containing an experimental high-resolution mass spectral library of N-glycans and automated glycan mapping using UHPLC-Orbitrap-MS analysis" at the Glyco-Biotechnology satellite session of the annual meeting. The talk is scheduled on Sunday, October 02 from 11:50 AM – 12:20 PM at the Magnolia Ballroom, Section B.
The talk will focus on the challenges of LC-MS peak processing, and comprehensive characterization of N-glycans including the role of tandem MS in resolving the isomeric glycan structures. It also includes a quick demonstration of the analysis workflow for released N-glycans from two mAb variants - Infliximab and Cetuximab.
We are also presenting a poster titled, "Mass Spectrometry-based High-throughput Profiling of Porcine Notochordal-Cell Matrix N-glycans Using GlycanExplorer™ Software". The poster number is P006 and will be presented on Monday, October 03, between 1:40 pm and 4:00 pm.
If you are looking for an informatics solution for mass spectrometry-based released glycan or glycopeptide analysis, book a meeting with us and visit our booth# 103. We are happy to discuss your research and software requirements.
We look forward to seeing you in Florida!
For more details on Society for Glycobiology Annual Meeting, 2022. Please visit: https://www.glycobiology.org/2022-annual-meeting
| | | | |
| --- | --- | --- | --- |
| | Comment | Share | |