Back from APA 2018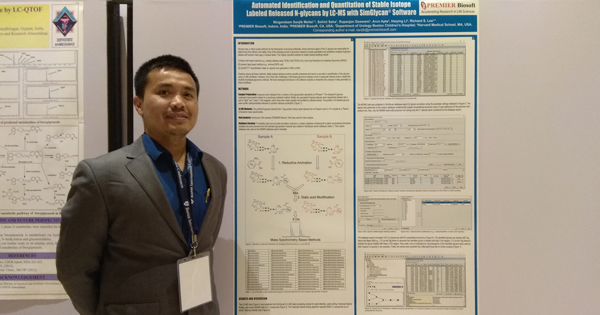 March 01, 2018
PREMIER Biosoft is back from the Applied Pharmaceutical Analysis-India (APA) 2018 Conference held at The Westin, Pune, Koregaon Park, India from February 26-27, 2018. We showcased SimGlycan® software – a novel software solution for facilitating high throughput qualitative, and quantitative analysis of glycans in complex biological samples using mass spectrometry data.
Our CSO Dr. Sanjib N. Meitei presented a poster titled "Automated Identification and Quantitation of Stable Isotope Labeled Released N-Glycans by LC-MS with SimGlycan software". Several delegates comprising of eminent scientists and industrialists working in the field of bio analysis attended the presentation. Glycans play a critical quality attribute for the therapeutic monoclonal antibodies, where terminal sugars of the Fc glycans are responsible for determining their efficacy and safety. These studies include quantitative and qualitative analysis of glycans. We were able to demonstrate how SimGlycan is able to analyze their complex glycomics mass spectrometry data and meet their research requirements.
We look forward to meeting you again!


| | | | |
| --- | --- | --- | --- |
| | Comment | Share | |