Meet Us @ ASMS 2017 Indianapolis, IN, June 4-8, 2017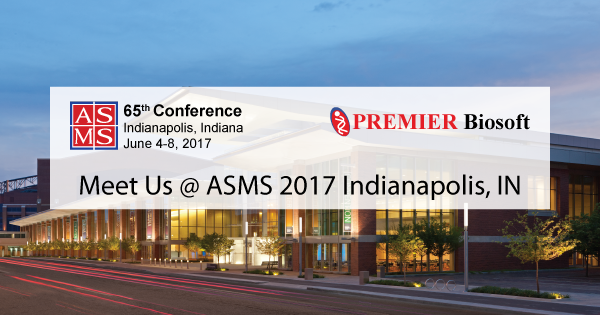 May 25, 2017
We are pleased to announce that PREMIER Biosoft is participating in the 65th Annual Conference on Mass Spectrometry and Applied Topics (ASMS), Indiana Convention Center, from June 4-8, 2017, Indianapolis, IN, USA.
We are showcasing –SimGlycan® – our high throughput glycan & glycopeptide identification software and SimLipid® – our high throughput lipid characterization software.
We will be participating in multiple events organized by our partner companies. The events are as follows:
Waters® UPLC® SONAR™ Lipidomics Workflows with SimLipid® Software

We are excited to announce the release of SimLipid® v. 6.00, the first ever software platform for automated lipidomic data analysis for Waters® UPLC® SONAR™ Data Independent Acquisition (DIA) data.

For a hands on demo, please visit us at Waters Booth #501 and Hospitality suite – JW Marriott-Grand Ballroom 1–4. Do not miss the opportunity to get a free trial!

Agilent's SFC Lipidomics Workflows with SimLipid® Software

Visit us at Agilent's booth #600 and Hospitality suite – JW Marriott-Grand Ballroom 6 – to learn about how SimLipid® facilitates automated lipid identification using MS/MS data and normalizes the abundances of the identified lipids with respect to a set of internal standards.

This normalization technique not only provides the accurate measurement of the identified lipids across biological samples, but also facilitates accurate statistical analysis for downstream differential lipidomics analysis.

Shimadzu's LCMS-8060 based Shotgun Lipidomics Methods using SimLipid®

Visit Shimadzu's booth #511, Hall D-K and Hospitality suite – JW Marriott-Grand Ballroom 5 – to learn about SimLipid® workflow for automating lipidomics analysis using data from Shimadzu's LCMS-8060 based lipidomics methods, a shotgun based multiplexed precursor ion scan/neutral loss scan lipidomics methods using Shimadzu's latest triple quadrupole instruments.

Workshop on Lipidomics Data Processing and Analyses: Software Tools (Lipids & Lipodomics Interest Group)

Our Chief Scientific Officer Dr. Sanjib N. Meitei, and Prof. Vladimir Shulaev, Prof. University of North Texas, (our SAB member) are available to answer your questions on lipid MS data processing tools. Join us along with Todd Mitchell and Eva Duchoslav, at Room 231-234 on Wednesday, June 7th, from 5:45 PM to 7:00 PM.

Poser Presentation:

This year, we are also presenting following six posters at the event:

1. Automated and Rapid Characterization of Low-Molecular-Weight Heparin Oligosaccharides Using TripleTOF 5600 Mass Spectrometer with SimGlycan® Software
2. Phospholipid characterization by a TQ-MS data based identification scheme
3. Automated Lipid Profiling of Malaria Samples Using Orbitrap Velos Pro Mass Spectrometer with LipidSearch™ and SimLipid® Software
4. Automated Lipid Profiling of a Plasma Sample Using Ultra-High Resolution Qq-Time-Of-Flight Impact II™ Mass Spectrometer with SimLipid® Software
5. Utilization of SimLipid® for the characterization of metabolic syndrome related lipids acquired using a novel scanning quadrupole DIA acquisition method
6. Development of an Integrated Workflow for Profiling and Semi-Quantitative Analysis of Lipids
For poster number and presentation timings, please visit our events section.
We look forward to meeting you at ASMS 2017!

| | | | |
| --- | --- | --- | --- |
| | Comment | Share | |