PREMIER Biosoft @ 65th ASMS, Indianapolis, IN, USA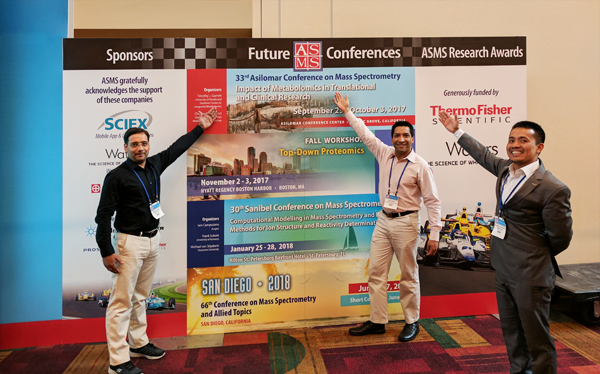 June 14, 2017
PREMIER Biosoft is back from 65th Annual Conference on Mass Spectrometry and Applied Topics (ASMS), Indianapolis, IN, USA. It was a wonderful experience! We showcased our software tools, namely, SimGlycan® – a high throughput glycan & glycopeptide identification software, and SimLipid® – a high throughput lipid characterization software. During the four-day event, we participated in multiple events organized by our partner companies. Here are some highlights:
We also presented six posters at ASMS
On Monday June 5th, we presented:
Automated and Rapid Characterization of Low-Molecular-Weight Heparin Oligosaccharides Using TripleTOF 5600 Mass Spectrometer with SimGlycan® Software
Phospholipid characterization by a TQ-MS data based identification scheme
Automated Lipid Profiling of Malaria Samples Using Orbitrap Velos Pro Mass Spectrometer with LipidSearch™ and SimLipid® Software
On Tuesday June 6th, we presented:
Automated Lipid Profiling of a Plasma Sample Using Ultra-High Resolution Qq-Time-Of-Flight Impact II™ Mass Spectrometer with SimLipid® Software
On Wednesday June 7th, we presented:
Utilization of SimLipid® for the characterization of metabolic syndrome related lipids acquired using a novel scanning quadrupole DIA acquisition method
On Thursday June 8th, we presented:
Development of an Integrated Workflow for Profiling and Semi-Quantitative Analysis of Lipids
Please visit SimGlycan® & SimLipid® Poster and Notes sections to download a copy.
ASMS 2018 will be in San Diego and we look forward to meeting you there!
| | | | |
| --- | --- | --- | --- |
| | Comment | Share | |